At Boston Rhythmic, our core is our athletes, families, staff, and community partners. Would you like to become one of our treasured community partners? Please send us an email describing your services and how they would fit into our program. We would love to hear from you! Meet some of the people in our family:
RHYTHMIC GYMNASTICS LEOTARDS AND EQUIPMENT
Looking for a unique leotard, a special ball or ribbon, or any other supplies for your training? Please check out our supplier partners:
---
SUGAR&SKY, LLC
One of our gym moms, Jen Eve, is an amazing baker and sugar artist. Her bakery, Sugar & Sky, LLC has provided high-quality sweets for all kinds of special occasions for many years! Don't take our word for it, have a taste! Order one of her amazing, unique, birthday cakes! Jen Eve is donating part of the proceeds of customized, signature Rhythmic Gymnastics cupcakes to honor our most prolific Boston Rhythmic Ambassadors! Sugar & Sky and Boston Rhythmic is a partnership we treasure and hope to grow over the years!
---
Remote Rhythmics Community Workout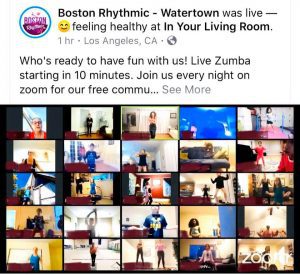 Bringing communities together, keeping the hope alive, sharing positive energy, creating beautiful connections! #stayactive #stayconnected #danceathome. Everyone needs a little fun and connection during these times!
Amazing artists and community leaders are donating their time to help our communities grow stronger and stay fit during the Corona #quarantine #StayAtHome time! Families from 21 countries are participating so far, let's reach further, invite your friends and #DanceAtHome !
22 COUNTRIES: Brazil: Porto Alegre, Rio de Janeiro, Canada, Chile, Egypt, France, Germany, India, Japan, Lebanon, Malaysia, Netherlands, New Zealand, Nigeria, Romania, Singapore, South Africa, Spain, Thailand, Turkey, United Arab Emirates, United Kingdom.
33 STATES: Arkansas, Arizona, California, Colorado, Connecticut, District of Columbia, Florida, Georgia, Illinois, Louisiana, Maine, Maryland, Massachusetts, Michigan, Minnesota, Montana, Nebraska, Nevada, New Hampshire, New Jersey, New York, North Carolina, North Dakota, Ohio, Oregon, Pennsylvania, Rhode Island, Tennessee, Texas, Virginia, Washington, West Virginia, Wisconsin.
---