IT'S TIME TO PLAN FOR THE SUMMER!
Register For Our Summer Camp 2024 And Join The Fun!
PURE EXCITEMENT AND SO MUCH POSITIVE ENERGY
Why Boston Rhythmic's Summers Are The Best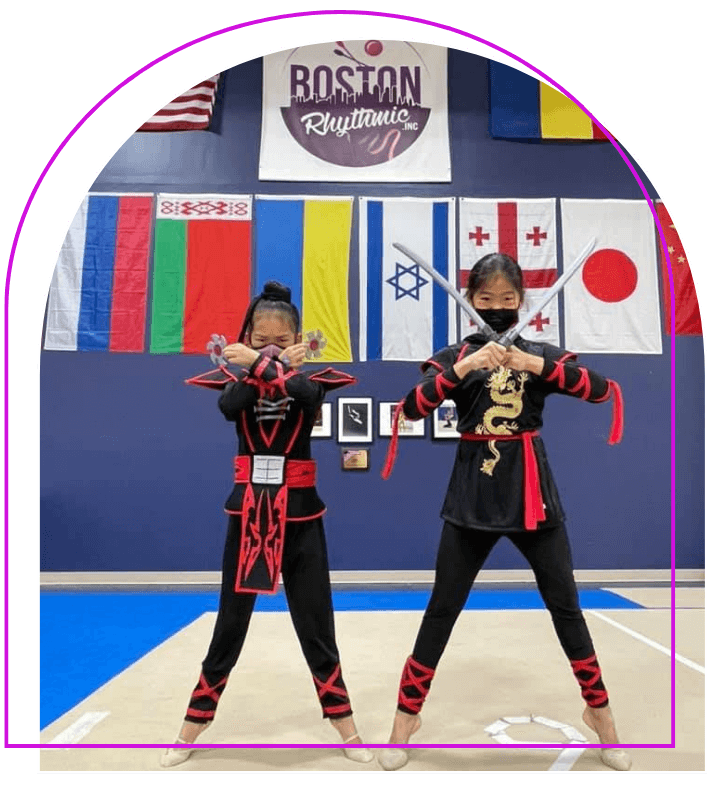 WE TRAVEL EACH WEEK TO A NEW COUNTRY
Your kids will learn not just gymnastics skills, but also how to count, greet and say simple sentences in a new language, will learn geography, history and traditions from around the world. Last summer we traveled to Spain, Romania, Mexico, China, India, USA, Bulgaria, France and more!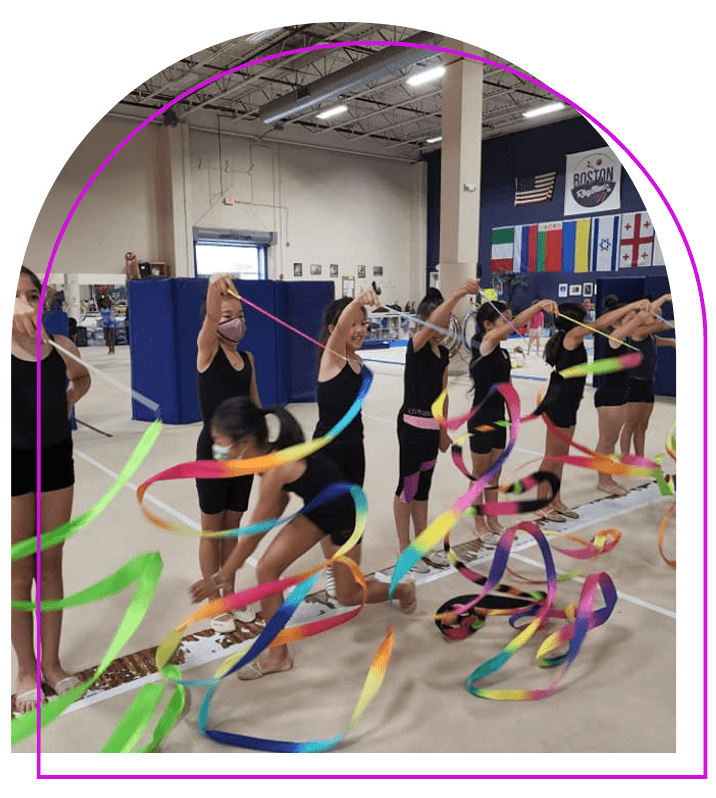 WE PUT ON A FULL BLOWN SHOW EVERY FRIDAY
Each Friday all children will perform in a show with music, dance, and costumes inspired by traditions of various countries. Everyone participates in our amazing shows, from the youngest preschoolers to our Level 9 gymnasts.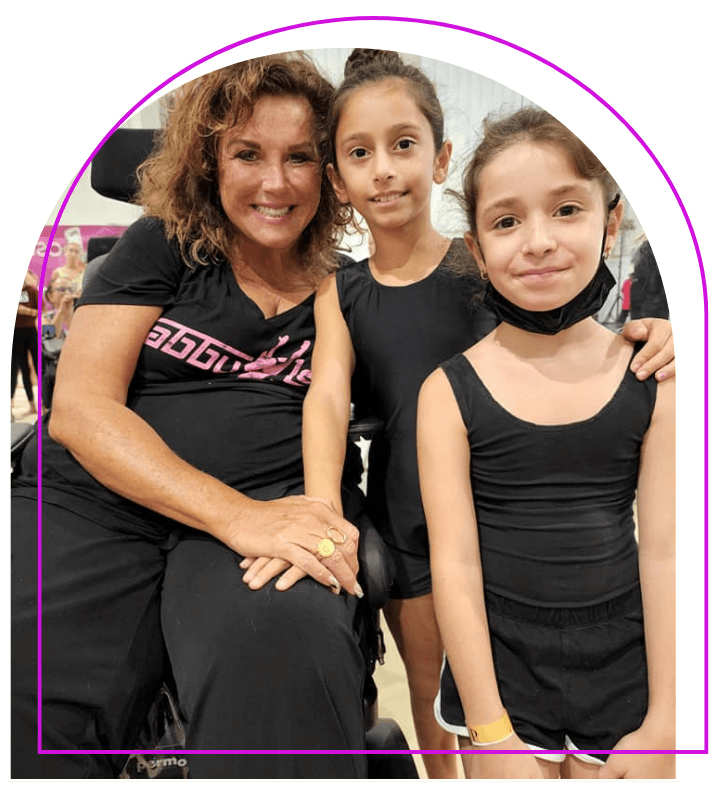 Famous gymnasts and all kids favorite movie characters sometimes visit our gyms to teach children new skills, inspire and motivate them or just join in the fun!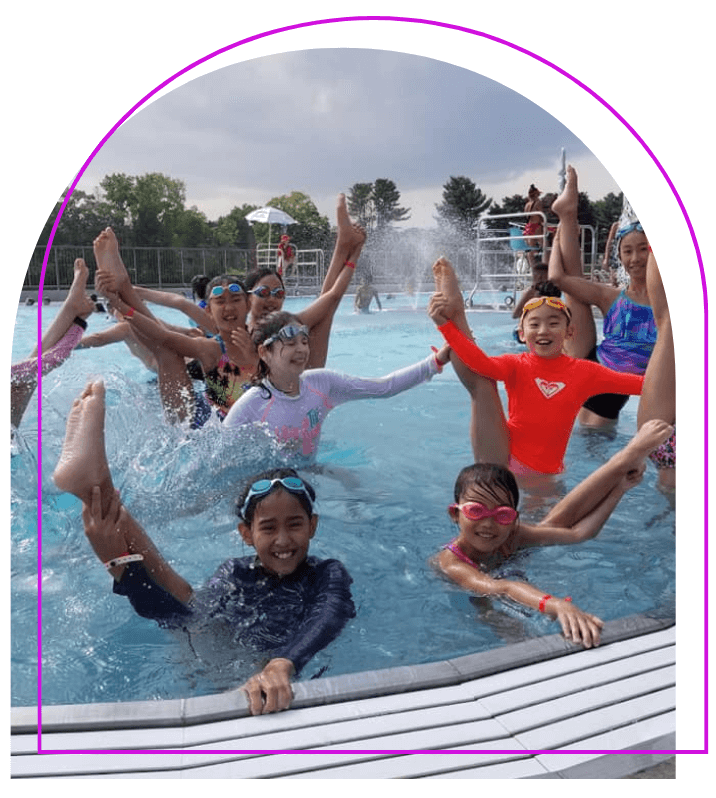 WE SPRINKLE IN ALL KINDS OF OTHER ACTIVITIES
Arts and crafts (based on the country theme), spa day, pajama day and we even go to the pool!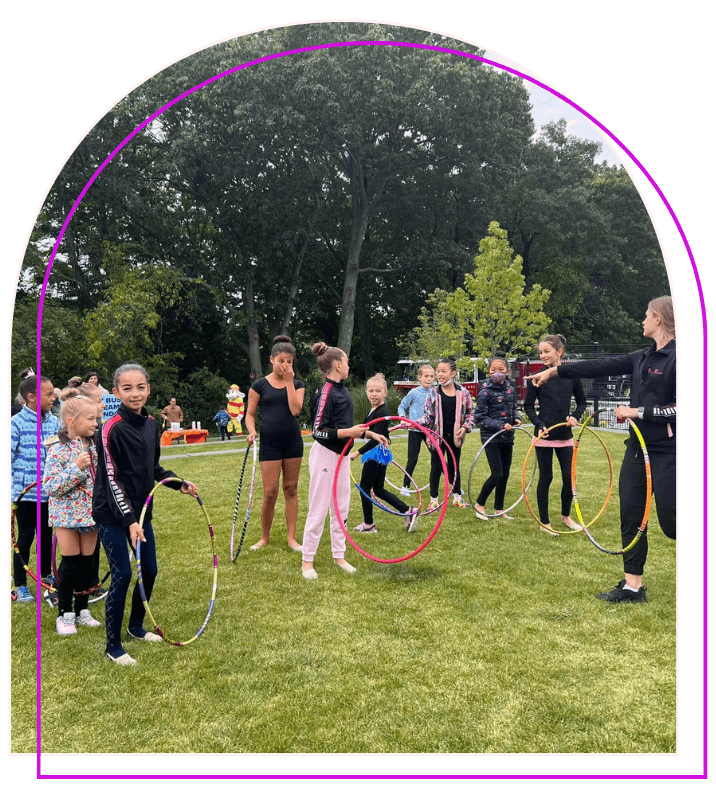 Games, walks by the river, and some days we do the whole training outside (based on the weather conditions)
WATCH THE VIDEO FROM OUR CAMP
Fun, Challenging, Screen-Free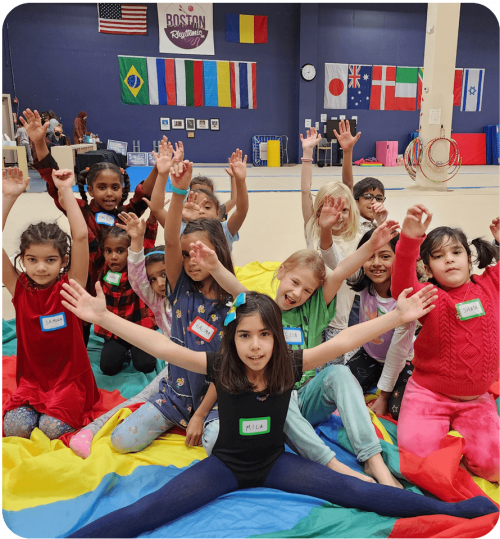 SEE YOUR SAMPLE DAILY SCHEDULE
With over 20 years of experience hosting successful sports camps for children, we've learned how to make fitness fun for your child! Your child will have a blast in our summer camp moving with friends, building confidence and life-skills through gymnastics and dance practice.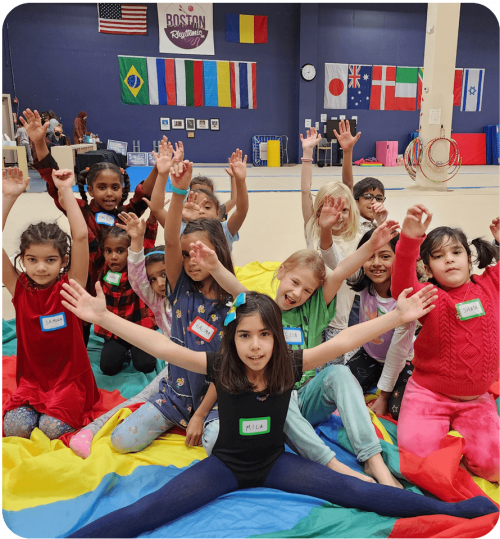 We are excited to offer an in-person camp to keep your child active, engaged and happy this summer! Our coaches will guide your child in cooperative groups, teaching rhythmic gymnastics, Dance and Art projects that help your child grow, learn and connect!
✅ Connect with friends and make new ones
✅ Learn cool new skills
✅ Practice working independently
✅ Get in great shape
✅ Engage in exciting off-screen activities
✅ Improve flexibility and strength
✅ Learn routines
✅ Improve musicality and expression
✅ Improve dance and gymnastics skills
✅ Most important… Have fun!!
8:30am – morning activity
9:00am – warm up, stretching, ballet
10:30am – snack time
11:00am – dance
12:00pm – lunch time
1:00pm – theme event (splash pad, spa day, pajama party)
2:30pm – show routines
4:00pm – pick up time

*Training time is longer for the higher levels and shorter for the younger kids
**Subject to change based on the age of the children and the theme for the week.
Recreational, Junior Olympic and Xcel teams - please see the CHART for our summer program below:
*Spots will be assigned on a first come-first serve basis, until each group is full. The initial payment to reserve your spot is $75-95/camp week.
SUMMER CAMP MEMORIES 2002-2023
"What a wonderful place! My kiddo loves it and comes away every day telling me so. On the first day he called to me across the gym "mom, you were right. This is fun!"
"Absolutely fantastic place. The gym itself is impressive, with high ceilings, new and bright. The coaches are engaged and great at teaching children of all types of character. They have many skill levels. Both of our daughters enjoy their time greatly and have developed increased coordination athleticism and confidence."
"They are simply awesome! Good structure, great coaches. Fantastic communication and they are creative."
"My 5 year old daughter had no rhythmic gymnastics experience but I took a chance and signed her up for summer camp here and Boston Rhythmic exceeded my expectations. There is a fantastic variety of activities each week: of course there's gymnastics and the kids learn and perform a new routine each week, but there are also weekly trips to the pool, crafts, free play, and themed days like pajama day. As a working parent I appreciated the option of an extended day and the ability to sign up for camp by the week. Most importantly, my kid had so much fun and came home happy each day, talking about her friends and coaches, and eager to show us her new skills. My daughter can be wary of new situations, so it was especially wonderful to see her confidence grow and watch her run into the gym in the morning with a smile on her face, immediately joining in to play games with the other kids. I noticed the older children were welcoming and treated my child with kindness, which I think says a lot about the culture cultivated by the coaches, staff and owner. Can't recommend their summer camp highly enough and my daughter loved it so much that she wants to continue with rhythmic gymnastics when the school year starts back up."
Don't delay! Join us today, space is limited.

Our gym locations are:
Boston Rhythmic Westborough, 290 Turnpike Rd
Boston Rhythmic Waltham, 16 Pine St
1 Westinghouse Plaza, Hyde Park (Building G, Bosse Sports)