Join The Amazing Gymnastics Program For 3-12 Year Olds!
Currently, the tuition in Hyde Park is 25% OFF!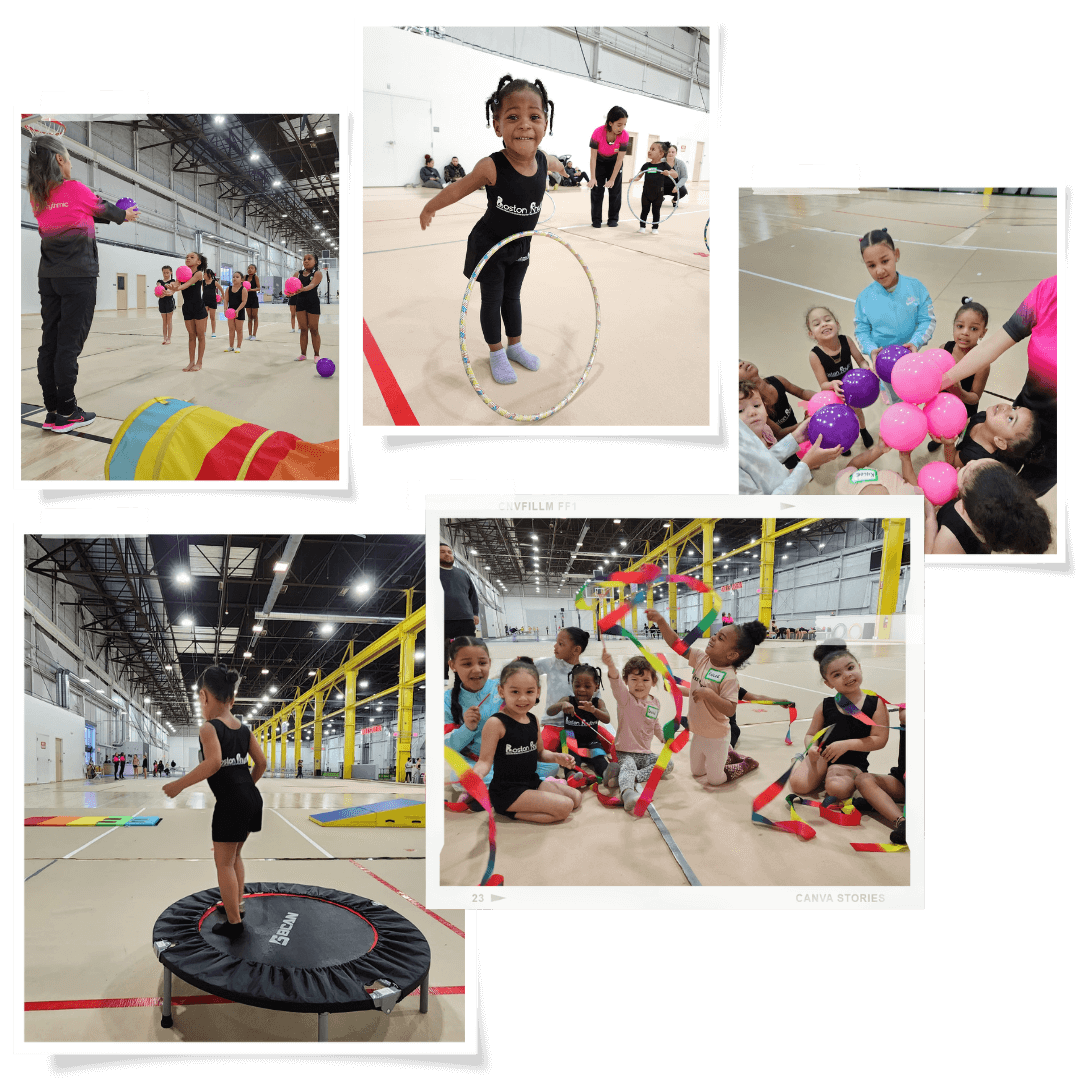 Learn the most spectacular sport with Boston Rhythmic - the premier gymnastics school in New England!
We've been teaching gymnastics in our facilities all over Boston for 20+ years! At our gym in Hyde Park, we offer:
✔️ state-of-the-art facility with 40 ft ceilings

✔️ professional coaches that find an approach to every child

✔️

a proven program that combines gymnastics acrobatic skills with graceful dance moves

✔️ training with various gymnastics props such as balls, hoops, ribbons
✔️ flexibility lessons that help kids improve their posture and find freedom in their movements

✔️ games and creative exercises that make training more fun!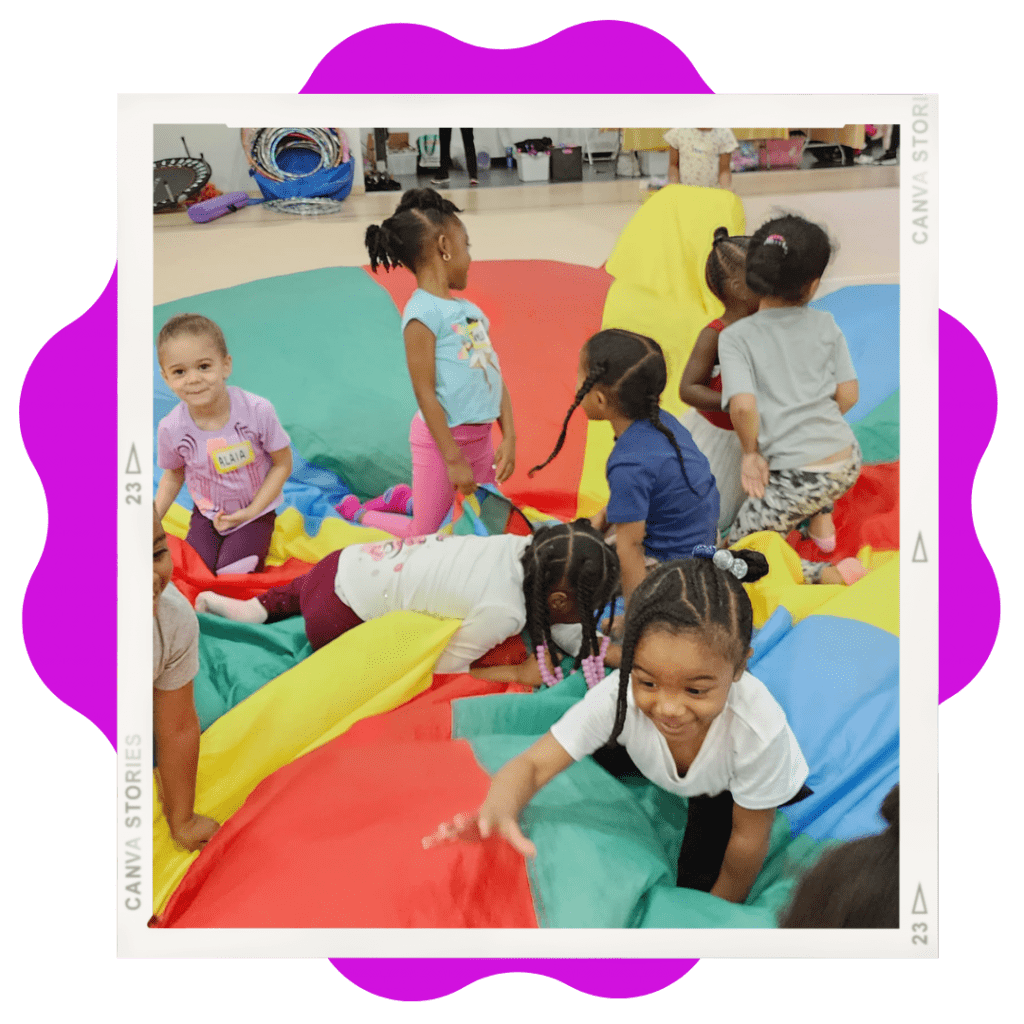 Preschool gymnastics for 3-4 yo
Get your preschooler moving and grooving as they stretch, jump, bounce, spin, and dance with various props! Kids ages 3-4yo will improve fine and gross motor skills, hand-eye coordination, and kinesthetics during this high-energy class! They will have tons of fun playing with balls, scarves and ribbons while learning the basics of apparatus work in rhythmic gymnastics.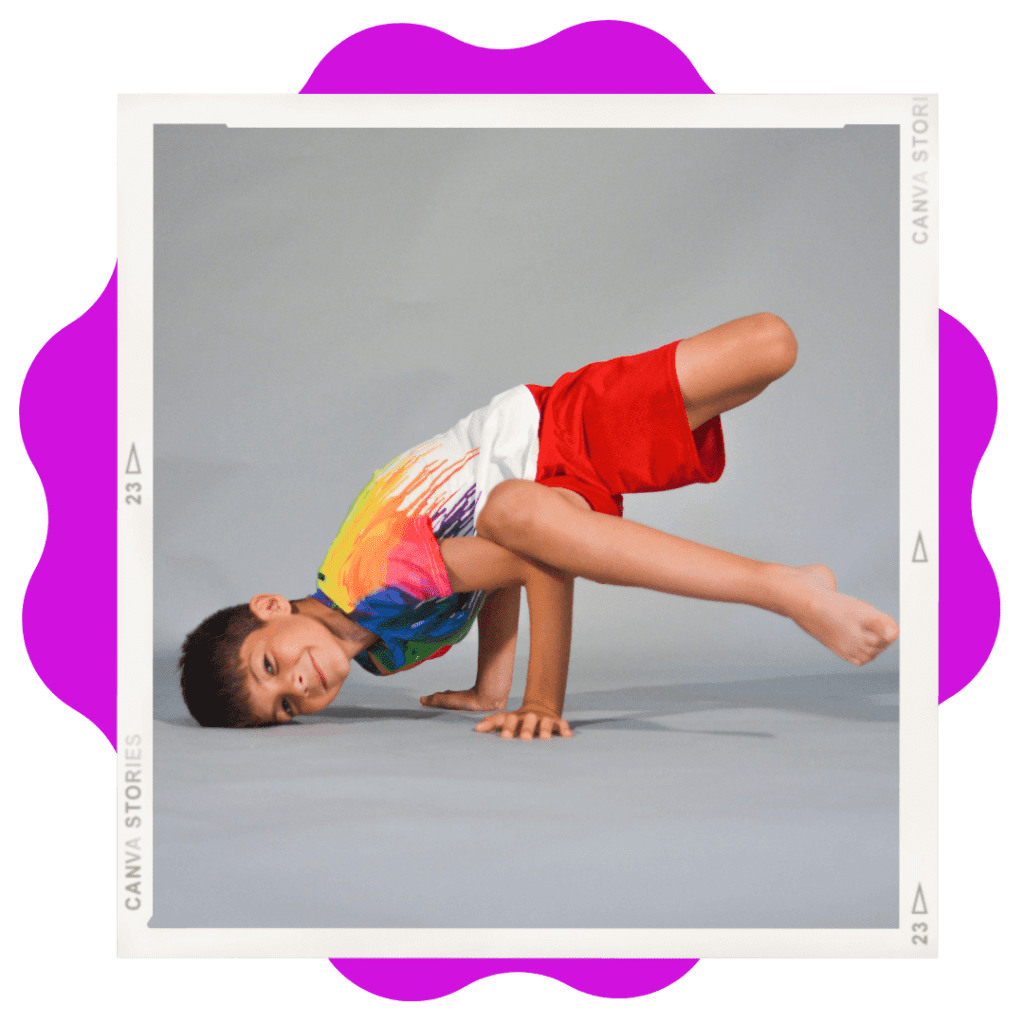 This is our new amazing action-packed class for 3-12 years old boys and girls. It includes tumbling, parkour, cartwheel, handtand, backband, flips, and many other tricks under the guidance of our professional and super fun coach Mike. You and your child will be in awe of what they are capable of!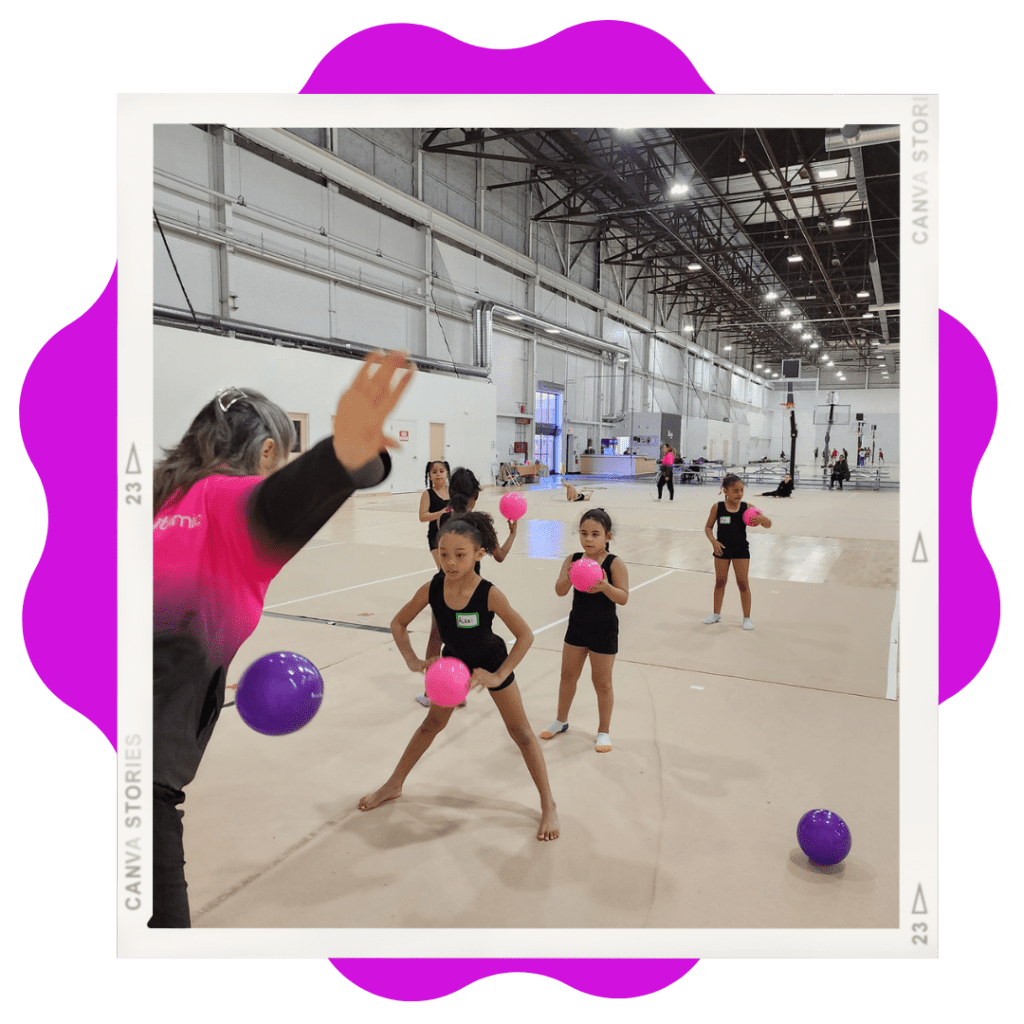 Rising stars 1 for 5-6 yo
The Rising Stars is our recreational weekly class program. It is designed for girls who want to experience the beauty and joy of rhythmic gymnastics, in a fun, challenging but encouraging setting. Our Rising Stars classes are structured by age and skill level, so that everyone feels challenged but nobody is overwhelmed.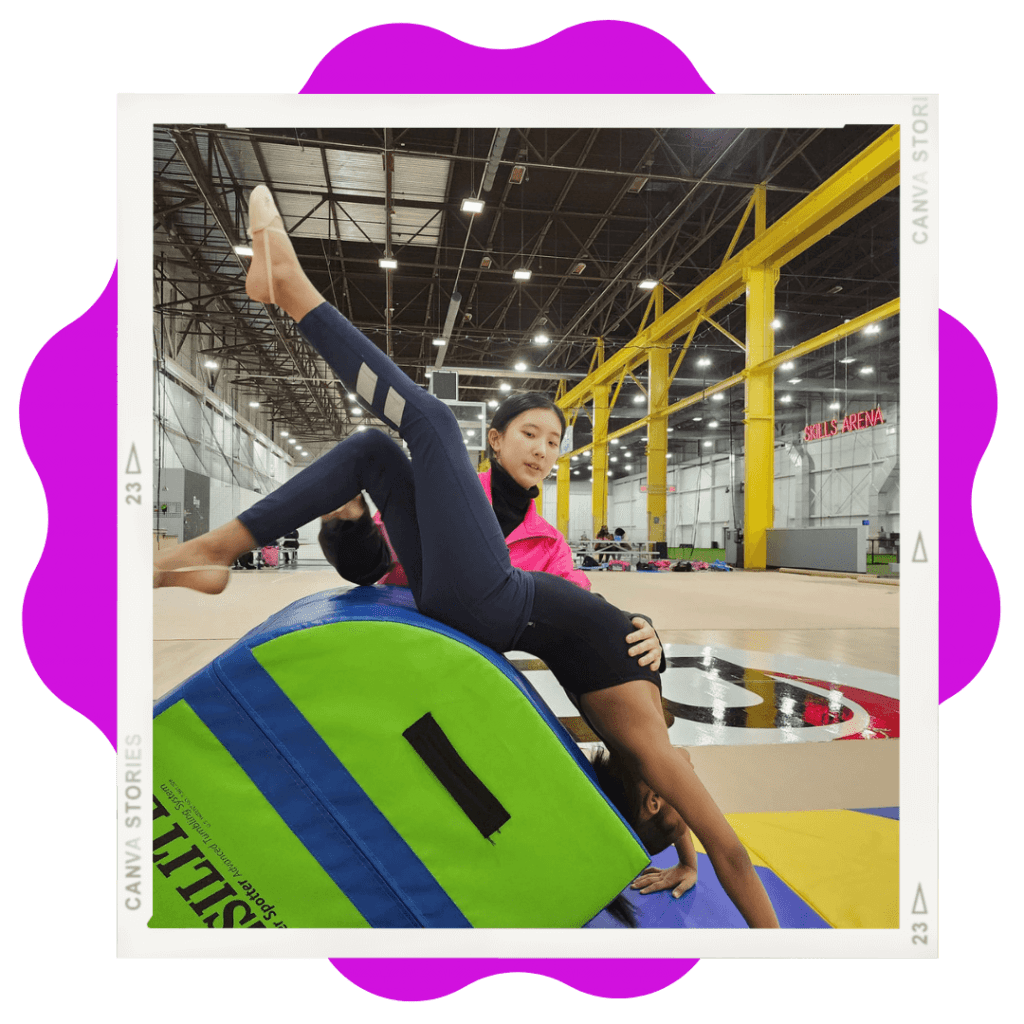 The Rising Stars 2 is our recreational weekly class program for 7+ years old kids. Step into an engaging environment in which the beginner gymnast can explore the basics of rhythmic gymnastics using props such as balls, scarves, or stuffed animals. Our coaches lead gymnasts through stretches, body skills, and apparatus tricks, improving the child's strength, flexibility, and coordination.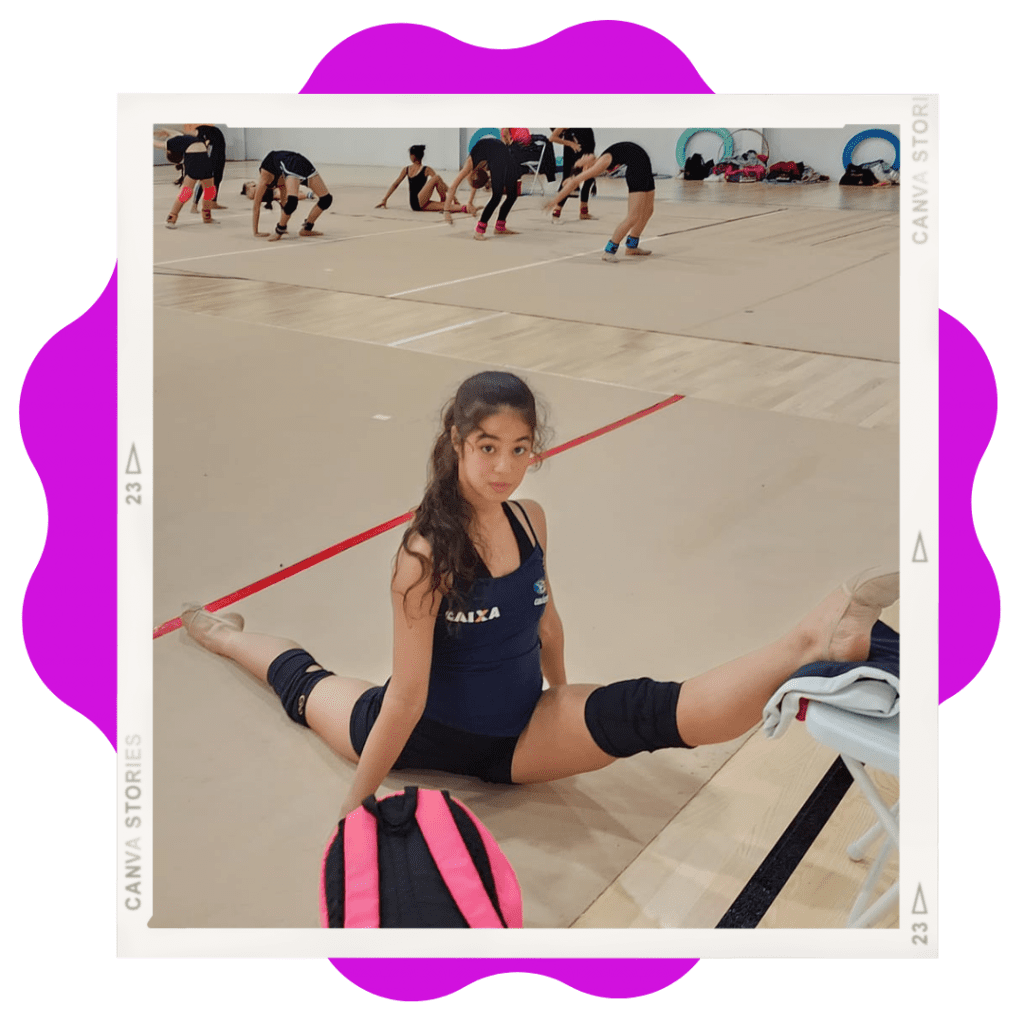 Our Xcel Team is for kids with more experience who want to start competing. It combines competitive gymnastics and fun, offered in an inclusive and safe environment. Gymnasts learn individual routines and choreography, advanced skills, fun tosses, with a focus on correct rhythmic gymnastics technique. Our team members range from 5 to 18 years old, from beginner level to the most advanced. The Xcel Team classes are the natural progression up from our Rising Stars program.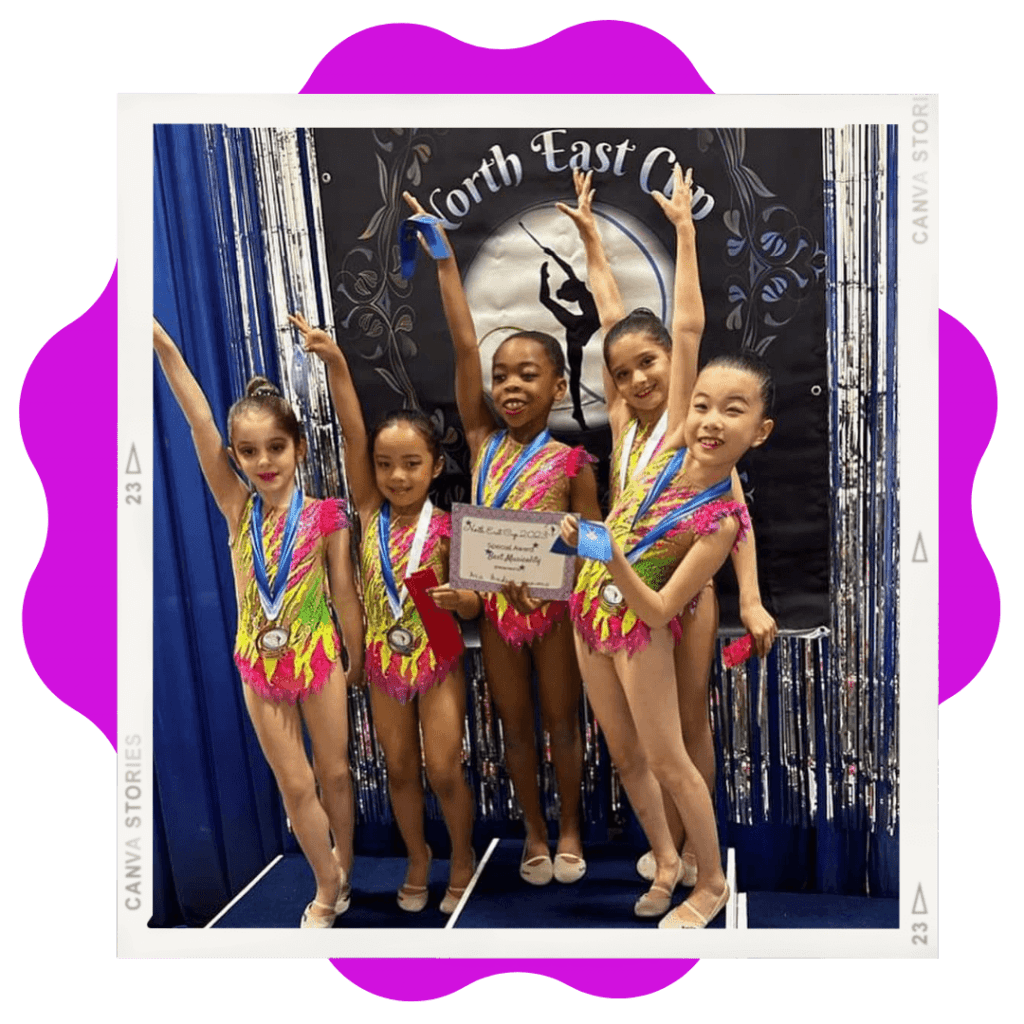 Junior Olympics Levels 5-10
Junior Olympics Levels 5-10 is for experienced gymnasts who compete at regional and national level. They love the beautiful state-of-the-art facility with 35 foot ceilings where they can practice their risks and tosses, the signature elements of rhythmic gymnastics. Ribbons and hoops fly up in the air while gymnasts perform their flexibilities and acrobatic skills down below. So inspiring for the little ones!
Summer Camp In Hyde Park!
With nearly 20 years of experience hosting successful sports camps for children, we've learned how to make fitness fun for your child! Your child will have a blast in our summer camp moving with friends, building confidence and life-skills through gymnastics and dance practice.
We are excited to offer an in-person camp to keep your child active, engaged and happy this summer! Our coaches will guide your child in cooperative groups, teaching rhythmic gymnastics, Dance and Art projects that help your child grow, learn and connect!
Age: 4-6 & 7-12
Dates: Choose any week from June 26 to Sep 2
Time: 10:00 am - 1:00 pm and 12:00 pm - 3:00 pm
Price: $250/week (Mon-Fri)
Currently, the tuition in Hyde Park is discounted by 25%!
The classes will take place on Saturdays and Sundays.
Space will be very limited, so don't miss out!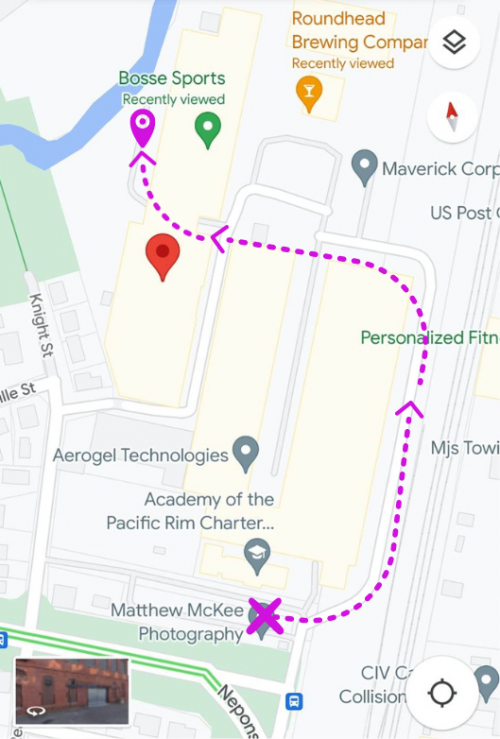 Address: 1 Westinghouse Plaza, Building G, Hyde Park
We are located at the Bosse Sports Complex, Hyde Park. Please, see the map for directions.