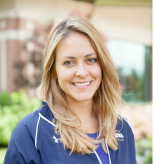 Growing up in the Chicagoland area, I was a very energetic child involved in several extracurriculars such as ballet, tap, violin, volleyball, figure skating, and artistic gymnastics. Gymnastics quickly became my favorite and I continued with it for a couple of years until I was injured and my coach suggested I try rhythmic gymnastics. It was then at age 11 that I started my rhythmic gymnastics career and instantly fell in love with the grace, flexibility, strength, challenges, and beauty of the sport. Through dedicated hard work and the help of my coaches, I was able to make the Elite Level 10 by my third year. After competing in the Elite level for three seasons, I was chosen to join the US National Team in 2006 as a Senior Group Member. I traveled around the world with my teammates and coaches to several beautiful places such as Israel, Portugal, Spain, Poland, Holland, Canada, Israel, Italy, and Greece. In 2007, I achieved my career goal of representing the US as a National Team Member at the World Championships in Greece and retired afterward.
I then attended the University of Colorado at Boulder where I received my Bachelor's Degree in International Affairs & Economics. Since then, I have taught at several dance and yoga studios as well as a few rhythmic clubs across the country. I helped start a club in Colorado, another in Chicago, and have also coached several years at my home gym, North Shore Rhythmics.
I love coaching and supporting gymnasts of all different levels and potentials. I strive to help my gymnasts reach their rhythmic aspirations through cultivating an environment of positivity, creativity, and respect.
Languages: English, Polish, Spanish